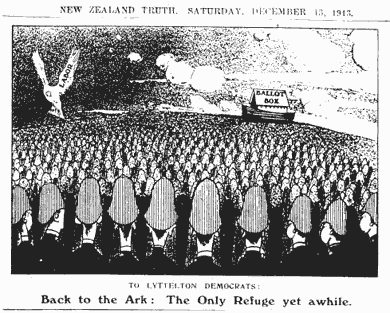 It's been over a week - and still no Wellington election results... The local body elections are obviously not taken seriously by the majority of the population - witness a voter turnout barely over 40%. It's sad that Wellington - supposedly New Zealand's creative and cultural center - can be so influenced by such a turn of apathy, that people have failed to recognize the significance of this election for the future of our city.
We're on the brink of some massive infrastructural changes - construction of the Te Aro bypass is ready to begin, the future of Wellington's waterfront area is totally uncertain. In recent years, the City Council has become a key driving force in overriding democratic legislation and processes of public review and consultation, to fast track a number of initiatives for development across the city, most of which involve turning public parks and green space into commercial property.
Kerry Prendergast said in a recent interview, that creative industries were a key part of the council's development strategy. The problem being that Wellington is a very small city, and its not clear where these creative industries will find the space to grow, develop, and prosper, when every available square metre of property in the central city is being turned into residential appartments. Goodbye WACT, goodbye The Surgery, goodbye Plan9, Oak Park, The Factory, and the Cable St Studio, not to mention the Community Law Center, the Womens Health Center, and Volunteer Wellington. They've all been kicked out of their spaces in recent months to make way for residential development. Rex Nicholl's (property developer, and husband of our good Mayor) website uses phrases like "moving upmarket" and "the quality upgrading of upper Cuba street" to describe his plan to build a tower and motel complex with car parking facilities right next door to aforementioned bypass - an "extension/revitalization".
I want to say this again, just to make the point doubly clear. Wellington is a small city - in fact, not even a city, a small town. The scale of our urban development is so small, we couldn't even compare it to Auckland or Sydney, and the same goes for our supposed traffic problems. Now Wellington, for all it's small scale, has a sense of urbanity that I don't think is comparable to any other city of this size. There is a real inner city culture, an extraordinary diversity of urban architecture, and real sense of history and place, all in a compact little fold of less than 200,000 people. And within that small population, it's clear that there are some significant ruptures and differences, all which are played out in these elections. Prendergast's support is concentrated in the Northern Suburbs, amongst people who view the inner city as a giant carpark and shopping mall. The bypass is a good thing for these people, because it will save them 1 minute driving across town in peak hour traffic. Prendergast's opponents are a multitude of diverse factions, at all levels of the beaureacracy and urban community, from the city councillors who believe in that quaint notion that being involved in the city council is a service to the public, all the way to the residents of Te Aro who know what it means to be part of a living city.
So it does come down simply to a zoning battle. It's Tawa and Johnsonville against Te Aro. And what we stand to lose is fairly important - the only things that make our city any different from anywhere else in the world, the original Cuba Street, and the green spaces and public areas of our Waterfront.
With all the interest in the recent publication of David Lange's anti nuclear speech, it's worth noting that our Mayor Prendergast was planning to remove the nuclear free sign at Wellington airport recently - needless to say, this ill conceived plan was met with public outrage, and to the best of my knowledge the sign remains - though it's now dwarfed by gigantic advertising billboards. Some issues it seems - will never fail to rouse the awareness of the New Zealand public. But enough to participate in local body elections? It seems not. Let's just be thankful that we don't have to vote in the United States.